Arctic
A chance to get it right
To many, the Arctic is a faraway and mysterious place. To others, it's home. To many Canadians, it's an important part of our identity, making up almost 40% of Canada's landmass and two-thirds of our coastline.
The Arctic is home to the Inuit, who have lived there for thousands of years, and to remarkable species – like 
polar bears
 and 
narwhal
 – many of which live nowhere else on the planet.
The Canadian Arctic is a special place for conservation. Where else in the world do we have the same opportunity to safeguard a place that is still, in many ways, pristine, with species living in ecosystems barely touched by human activities?
Here, we have a chance to learn from past experiences and get things right from the start with smart long-term planning based on scientific and traditional knowledge. There are few places in the world where we still have the same opportunity.
And now is the time to begin. We know that the Arctic is changing at a record pace, one unseen in previous generations. It is warming at twice the average global rate, causing sea ice – the foundation of Arctic life – to melt, changing the face and reality of the region. These changes are affecting wildlife and communities, offering both challenges and opportunities.
Opportunities and challenges
The opportunities are important for northern communities in need of economic growth and jobs. The melting Arctic offers new prospects for development, particularly in mining and
oil and gas
development. Accompanying any new industry will be increased
shipping
, as supplies and resources are moved in and out of the Arctic, and possibly greater cross-Arctic travel as shipping companies try new, shorter routes.
The challenges are clear: the rapid pace of warming puts
Arctic wildlife
at risk, as animals struggle to adapt to new terrain, changing food availability, and new predators and competitors. And while economic development is much needed in the region, it is not without risks, including oil and contaminant spills, increased noise, disruption from new traffic, and the introduction of invasive species. These changes can also put the wellbeing of communities – many of which rely on these species as a traditional food source and part of their culture, and on the sea ice as an important means of transportation – at risk.
Fortunately, it's not an 'either/or' choice – both development and conservation agendas can be pursued at the same time, in balance. And, indeed, they must be, as conserving important ecosystems is fundamental to a creating a healthy long-term economic and environmental future for the region.
What WWF is doing
That's the future WWF supports by helping provide expertise, information and resources to create this harmonious approach, by:
Everyone has a role to play in securing a healthy Arctic future today. We must all work together to slow the impact of rapid
climate change
in the region, and to choose the right future for the Canadian Arctic. It's a land of great conservation opportunity, where we have a chance to set well-informed plans in place, heeding the lessons from past development successes and mistakes that have already happened around the world. In the Canadian Arctic, we have an almost clean slate, ready for us to make the right choices.
Threat of Oil Spills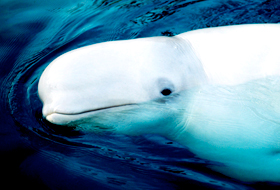 International Stewardship