Helping wildlife thrive in a changing Arctic
The Arctic Species Conservation Fund supports research and stewardship actions to safeguard some of Canada's most iconic species.
Beluga whales, bowhead whales, narwhals, barren-ground caribou, polar bears and walruses are among the many Arctic wildlife to benefit from high-quality research and stewardship through the WWF-Canada Arctic Species Conservation Fund. Through this research we seek to secure meaningful policies and legislation that are effective and appropriate for the conservation of Arctic species across their range, incorporate the best available science and Traditional Ecological Knowledge (TEK) and include the direct engagement of Indigenous peoples.
Since the Fund began in 2016, more than 35 projects have been supported across Canada's Arctic. Results from these projects include:
The discovery of a novel way the narwhal tusk is used to feed in the area around Tremblay Sound.
The development of a non-invasive method of studying bowhead whale feeding habits and population demographics using drones.
Updated polar bear subpopulation estimates, as well as new information on polar bear movements and reproductive output in Western Hudson Bay.
Acoustic monitoring and aerial survey analyses to determine how increased ship traffic and ice-breaking along proposed shipping routes affect marine mammals in north Baffin Island. An awareness campaign in northern communities on the importance of barren-ground caribou conservation.
The development of a method to study the impacts of disturbance on barren-ground caribou.
Mapping all known walrus haul-outs in Canada and advocating for the avoidance of these areas by ships through Mariners Guides and intervention in industrial development projects.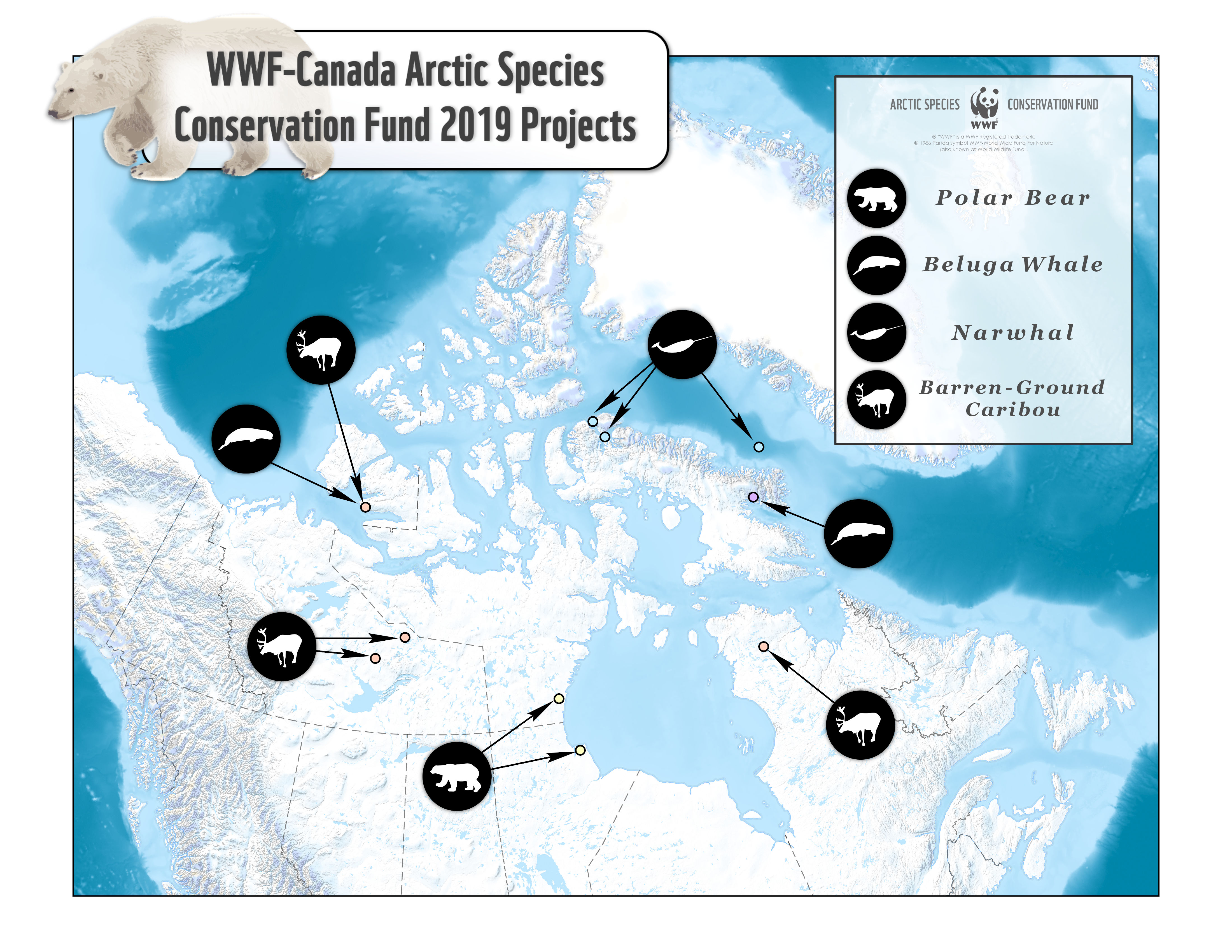 Arctic Species Conservation Fund projects
The Arctic Species Conservation Fund is now in its fourth field season. Our 2019/20 projects include research on the following:
Arctic Whales
From satellites and drones, to measuring climate change impacts, our Arctic whale projects will focus on:
Analyzing years of successful data from narwhal camp to determine migration routes, and core winter and summer habitats of narwhal.
Evaluating how climate change is affecting existing protected areas, including the Disko Fan Conservation Area in Baffin Bay. The project will investigate if this area is still being used by narwhal and study their vocalizations to learn if this area is still important foraging ground during the winter months.
Analyzing tissues samples from narwhal dating back to the 1970s against current years to determine the relative health and stress of the population over time.
Analyzing satellite tracking data to determine critical habitat for Cumberland Sound beluga, one of the most threated in Canada and listed under the Species at Risk Act.
Documenting Indigenous Knowledge on areas that need to be set aside as priority areas for iconic wildlife including beluga, Dolphin and Union caribou, and musk-ox. This will help ensure healthy and resilient ecosystems that support both wildlife and people.
Polar bears
Human-polar bear conflict rates are at an all-time high in the western Hudson Bay region of Nunavut. This year's research projects are designed to:
Identify polar bears causing problems around communities of Churchill, MB and Arviat, NU through camera traps.
Track problem polar bears to increase community and bear safety. This work will inform planning to minimize human-polar bear conflict.

Barren-ground caribou
With almost all of Canada's barren-ground caribou herds in the midst of steep population declines, our supported research projects will:
Observe the behavior of caribou close to and far away from mine sites, monitor stress levels through poop analysis, and track movement of collared animals.
Develop a network of Indigenous guardians to conserve the Bathurst herd, one of Canada's most in decline caribou populations.
Document Inuit Knowledge on caribou in Nunavik, Que where the George River herd has declined by 99 per cent.
Who can apply
The Arctic Species Conservation Fund supports projects aligned with WWF-Canada's priority Arctic species. Proposals from a variety of sources are eligible to receive funding, including universities, independent researchers, community organizations, consulting firms, government and non-governmental organizations. All fields of study (western science, TEK, social sciences, physical sciences, etc.) are eligible to apply. The types of projects the Fund seeks to support include:
Innovations in wildlife research techniques.
Development of non-invasive research methods.
Support for the development of community-driven marine or terrestrial protected areas and networks.
Quantifying the effects of environmental change on priority species.
Environmental characterization of barren-ground caribou calving ground habitat in a changing climate.
Quantifying the effects of disturbance on polar bears while denning.
Methods of reducing human-polar bear conflict in communities.
Quantifying the effects of ice breaking and underwater noise on marine mammals.
Identification and characterization of critical habitat for marine mammals.
Arctic Species Conservation Fund
Applications are open
We could provide your stewardship or research initiative with up to $25,000 CAD in funding.
Proposals are due April 3, 2020.
APPLY NOW