The Last Ice Area
As the climate warms, Arctic sea ice is disappearing. Almost every summer, the amount of remaining ice gets smaller – and the summer of 2012 saw a new record low. And, when the ice re-freezes each autumn, the ice that eventually forms is significantly thinner than it once was. The sea ice is vitally important to a whole range of animals from tiny shrimp to vast bowhead whales, as well as to local people. That's why it's so important that we conserve this essential ecosystem.
The news is not all bad; as the rapid changes unfold across the Arctic there remains a valuable opportunity to conserve wildlife into the future. One area along the northern coasts of Ellesmere Island and Greenland is projected to retain its summer sea ice longer than any other area in the entire Arctic. This is the core of the Last Ice Area, a region where we have the chance to get it right by planning for a healthy Arctic future. It's an opportunity to make sure that Arctic ecosystems are valued by communities and businesses in the north and around the world, that this resilient region will support people and wildlife for generations to come.
We're funding research to learn more about this region, which will be so critical for the future of the Arctic. We're also working with local communities and governments to determine the most appropriate management for the Last Ice Area.
We're working for a healthy, resilient Arctic that can provide a home to wildlife as their current habitat declines.
© Peter Ewins / WWF-Canada 
WWF Expert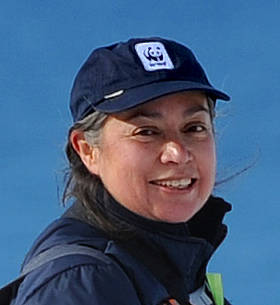 Vicki Sahanatien
Senior Officer, Government & Community Relations, Arctic Program
Where is the Last Ice area?
This map shows the extent of summer sea ice projected for 2040, as viewed from the north pole. The prediction is for a fringe of ice to remain in Northeast Canada and Northern Greenland when all other large areas of summer ice are gone.