Oil & Gas Development
The new frontier for development
Interest in developing offshore oil and gas resources in the Arctic has grown in recent years as the Arctic warms and the ocean is increasingly accessible. This may lead to important economic opportunities for northern communities, but with those opportunities come serious risks to wildlife, as well as people and their livelihoods.

Currently, no offshore oil and gas drilling is taking place in the Canadian Arctic – but that soon may change. WWF is committed to ensuring that any Arctic oil and gas development happens in the safest way possible, and we're working with key government and indigenous organizations to create the right conditions for responsible industrial practice.

The impact of a major oil spill on species and local communities would be significant, and a full-scale blowout would be catastrophic. One possible scenario is that a blowout is not contained before winter freeze-up; it would spew oil uncontrollably for the seven or eight months of winter ice-cover, without the possibility of taking any steps during that time to control the blowout. The oil would bind with the newly-formed ice, be carried far and wide by ocean currents, and released into new environments the following spring.

Shaping Regulations
In 2010, the Deepwater Horizon blowout in the Gulf of Mexico inspired Canada's National Energy Board to launch a comprehensive review of offshore Arctic oil and gas drilling regulations. WWF participated in this round table discussion, providing key insight and research on the risks of offshore drilling in Arctic waters, focusing largely on the importance of being able to control a blowout before the sea ice re-froze over the winter.

WWF was pleased that the National Energy Board recognized this risk, and required all developments to demonstrate the proven ability to control a blowout before the winter freeze-up.

Drilling in the Beaufort Sea
In late 2013, a consortium of oil companies (Imperial Oil, ExxonMobil and BP) submitted a proposal to drill in the deep waters of Canadian Beaufort Sea – waters far deeper than those of previous drilling attempts in the region.

The location identified in the proposal falls within an area identified as being of particular ecological significance. It's the edge of a continental shelf, where an upwelling of ocean currents mixes deeper waters with surface waters, creating a profusion of plankton and the fish and whales that feed on this plankton. The Beaufort Sea is an astonishingly rich Arctic ecosystem, home to belugas, bowhead whales, and polar bears. It is also the source of livelihood for the Inupiat, Inuvialuit and Gwich'in peoples.

That scenario represents what the National Energy Board recognizes as an "unacceptable risk," which requires an applicant to demonstrate that it can contain an uncontrolled blowout before winter freeze-up. While industry leaders maintain that their technology meets these criteria, WWF's best engineering advisors disagree.

So, WWF is working to make sure the regulators either refuse to permit this project or require such stringent conditions that the consortium decides not to proceed. We hope a precedent-setting ruling will effectively end the possibility of drilling in Canadian Arctic deep waters.
WWF Expert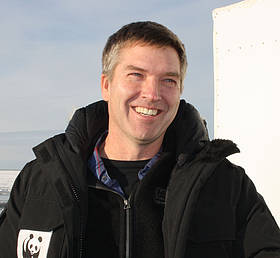 Anatomy of a blowout
A blowout is the uncontrolled release of crude oil and/or natural gas from an oil well after pressure control systems have failed. Blowouts can occur above or below water, and result in oil gushing into the surrounding waters. Deep water blowouts are particularly difficult to stop, because they are so remote and there is little experience available in dealing with them.