Arctic Oil & Gas
An unacceptable risk in the current environment
As climate change opens new areas of Arctic waters, interest is growing in the oil and gas resources below them. This development poses serious risks to wildlife, the climate and the people who live here.
Currently, no offshore oil and gas drilling is taking place in the Canadian Arctic. This may soon change. In 2016, the Government of Canada, along with the United States, imposed a five-year moratorium on issuing new oil and gas licenses in the Arctic Ocean but operations can still proceed under the dozens of existing permits. The government is currently conducting a broad science-based review of this licensing moratorium and it may well be lifted in 2021 if not sooner. WWF-Canada is committed to ensuring that any future Arctic oil and gas activities, should they occur, avoid areas of heightened ecological significance, are safe for the sensitive Arctic environment, do not threaten the livelihoods of Arctic communities, and are consistent with meeting national climate targets. We're working with key government and Indigenous organizations to ensure that any oil and gas development happens in the safest way possible and meets the highest international standards for oil spill prevention and response. For offshore oil and gas activity to proceed in the Arctic, massive investment in infrastructure and response capacity will be required and the government will need to provide a detailed account of how development of these resources is compatible with Canada's carbon reduction goals and international efforts to limit average global warming to 1.5 C.

What could go wrong
The impact of a major oil spill or well blowout on species and local communities would be catastrophic in the Arctic where there is currently no proven technology or method for removing oil from ice. One possible scenario is that a blowout is not contained before winter freeze-up, leaving it to spew oil uncontrollably for the seven or eight months of winter ice-cover, without the possibility of taking steps to control the release. The oil would bind with newly-formed ice and as it breaks up, travel far and wide on ocean currents before it's released into new environments the following spring.
WWF-Canada has carried out extensive oil spill trajectory modelling in the western and eastern Canadian Arctic. We investigated possible spill event scenarios associated with vessel traffic and offshore petroleum exploration, research that can help inform local risk perception, prepare for oil spill response planning, and inform integrated ocean management and planning.

Stricter regulations and local input
In 2010, the Deepwater Horizon blowout in the Gulf of Mexico inspired Canada's National Energy Board (NEB) to launch a comprehensive review of offshore Arctic oil and gas drilling regulations. WWF-Canada provided insight and research on the risks of offshore drilling in Arctic waters, focusing largely on the importance of being able to control a blowout before the sea ice formed over the winter.
The NEB recognized this risk and now requires all developments to demonstrate their ability to control a blowout before the winter freeze-up. This is an important step, but other offshore regulations in the Canadian Arctic must be significantly strengthened before any offshore development is even considered. These include rules related to oil spill response, blowout prevention, drilling and well control, seismic testing, chronic pollution, liability for spills, and risk management.
Regulators of offshore oil and gas operations in Canada are generally drawn from industry and government, and are not representative of the broader public. This is particularly true in the Arctic where regulators may have little experience with offshore drilling operations in extreme, remote and icy conditions and little knowledge of the local environment. WWF-Canada is calling for an overhaul of the offshore licensing process that involves meaningful collaboration with representatives of all affected groups to determine acceptable levels of risk before any drilling proposals are approved.

Considering other options
Offshore oil and gas is only one of a number of opportunities for economic development in the North. Before any decision can be made on the future of offshore oil and gas in Canada's Arctic, as well as strengthening regulations to mitigate the massive risk this sort of development poses, the government should be investigating and supporting alternative economies such as renewable energy, fisheries, and Inuit-led tourism, that would be less risky and more sustainable over the long term.
Canada must develop world-leading standards in offshore oil and gas regulation that will minimize the risk of a serious incident, ensure that adequate spill response capacity exists, and prove that Arctic oil and gas development really is the best option for the people who live here.
WWF Expert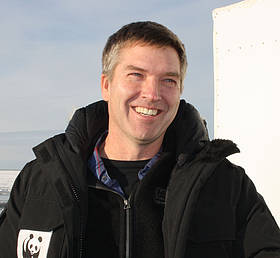 Anatomy of a blowout
A blowout is the uncontrolled release of crude oil and/or natural gas from an oil well after pressure control systems have failed. Blowouts can occur above or below water, and result in oil gushing into the surrounding waters. Deep water blowouts are particularly difficult to stop, because they are so remote and there is little experience available in dealing with them.