Together, for water
Loblaw Water Fund supports community water projects
WWF's Loblaw Water Fund is a grant initiative open to Canadians working on the ground to address the major threats to the health of our water wealth. Canada is home to thousands of lakes, rivers, streams and wetlands – and many of these water bodies need our help to become and remain healthy. It's not an undertaking any individual or group can do alone, which is why WWF and Loblaw are proud to support the very active freshwater community in its efforts to restore and manage our waters. The Loblaw Water Fund recognizes that we can do more together, supporting each other, than we can alone.
Over the past 3 years, the fund has supported almost 40 projects across the country. Results from those projects include:
Over 200 hectares of habitat for freshwater species restored
Planting of over 21,000 native trees and plants
More than 9,000 volunteers engaged in conservation efforts for their local rivers and lakes
The 2017 call for applications is now closed
On the Loblaw

Water Fund
"Loblaw's commitment to environmental initiatives hinges on our ability to provide not just funds, but awareness, to issues that warrant nationwide attention.  Partnering with WWF allows Loblaw to deliver an environmental message to millions of Canadians, while also funding projects that impact watersheds in communities where our people live and work."

- Bob Chant, Senior Vice President, Corporate Affairs and Communication, Loblaw Companies Limited
The Loblaw Water Fund
The Loblaw Water Fund is designed to help improve the health of and address the threats to freshwater ecosystems across Canada, including lakes, rivers, streams, wetlands, and surrounding riparian zones. The fund provides grants to registered charitable organizations and not-for-profits working on critical projects that aim to conserve, protect, or restore freshwater and riparian habitats and the species living within them.
The Loblaw Water Fund will support action oriented projects that take specific steps towards ecosystem restoration and/or the collection of data for long-term monitoring initiatives.
The Loblaw Water Fund grants are made possible through partial proceeds from Loblaw's charge-for plastic shopping bag program in its stores, which removed more than ten billion plastic bags nationally since 2007.
Current Loblaw Water Fund Projects
In 2017, 11 projects received funding from the Loblaw Water Fund, with focuses ranging from using cameras to monitor Atlantic salmon populations in Newfoundland to increasing capacity for First Nations' community based water quality monitoring in the Yukon Territory
You can explore all of the Loblaw Water Fund projects and how they are addressing the major threats to and health of our freshwater wealth at watershedreports.wwf.ca, or read more about them below.

Living with Beavers - Implementing Management Changes to Benefit Watershed Health
Though beavers are often seen as a nuisance or pest, they play a core role in watershed health. The Alberta Riparian Habitat Management Society (better known as "Cows and Fish") will help landowners and local municipalities in the North Saskatchewan River Watershed better understand beavers and management options that reduce beaver impacts while supporting more of the benefits beavers provide.
Community engagement in wetlands habitat restoration in the Arrow Lakes
Working in the Arrow Lakes area of B.C., the
Columbia Basin Watershed Network Society
will leverage existing restoration efforts by engaging and training citizens in wetlands installation, and in identifying potential new sites for wetlands restoration.
Wilp Luutkudziiwus - Luutkudziiwus Territory Management Assessment
The
Wilp Luutkudziiwus - Luutkudziiwus Territory
Management Assessment program will provide an opportunity to improve water quality and reverse fish habitat impairment occurring as a result of past forest road and harvesting practices along the Suskwa and Skeena Rivers in British Columbia. This project, managed by the Skeena Watershed Conservation Coalition, will provide updated information on the effects of these practices on water quality, fish stock productivity and habitat of anadromous and resident fish, as well as the impacts on riparian areas.
Surface water analyses of the rivers of the Abitibi and Harricanaw sub-watersheds
The drafting of the sub-watershed action plan by the Organisme de Bassin Versant Abitibi-Jamésie revealed a significant lack of surface water data. By conducting preliminary water quality analyses in streams and other surface water, this project will help provide a clearer picture of the state of the hydrological network and establish long-term monitoring procedures in the sub-watersheds.
RBG Wetlands Rehabilitation Program
Cootes Paradise Marsh and Grindstone Creek Marsh collectively represent approximately 790 acres, making them the largest remaining coastal marsh in western Lake Ontario. Once a thriving ecosystem, over the last century over 85 per cent of wetlands vegetation has been lost, water quality has degraded and several species have been eliminated.
Royal Botanical Gardens
is working to restore tfish and wildlife wetland habitat, improve water quality, and delist Hamilton Harbour as an area of concern.
Winnipeg's Lake Winnipeg - Aquatic Education, Monitoring and Restoration towards Conservation
The
Fort Whyte Foundation Inc.
is working with partner groups to adopt a standardized protocol for freshwater monitoring in Manitoba, along with a data archive for gathered information. This project will enhance and expand on the education opportunities at FortWhyte Alive, as well as offer immersive training for University of Manitoba and Winnipeg students at an urban field-site. The collected information will help guide lake restoration onsite at FortWhyte Alive; information that can then be transferred to other Canadian sites with poor water quality.
Indian Bay Watershed Ecosystem Health Assessment: Benthic Biomonitoring, Water Quality & Salmon Stock Analysis
Cameras will be installed in the Indian Bay Brook by the
Indian Bay Ecosystem Corporation
(IBEC) to count upstream migrating Atlantic salmon to compare with historic data provided by the Department of Fisheries and Oceans and determine the status of the Atlantic salmon population. The condition of the ecosystem will also be evaluated using chemical and biological indicators. IBEC will also partake in community events and meetings to promote the conservation of Atlantic Salmon and their habitat.
LaHave River Watershed Project - Water Quality Monitoring and Aquatic Connectivity Restoration
The Bluenose Coastal Action Foundation water quality monitoring program, one of the strongest and longest-running programs in Nova Scotia and the Atlantic region, will continue to monitor water quality in the LaHave River, assess fish passage at approximately 300 stream crossings, and complete eight fish passage remediation projects.
Neighbourhood Water Watch: Community-based monitoring of freshwater habitat health in Cape Breton
To improve understanding of local freshwater health, ACAP Cape Breton will train volunteers in proper sampling protocol, provide calibrated equipment, help sample site selection and data management. Coordinating volunteers from multiple groups will help prevent sampling repetition, improve consistency of data collection and make the best possible use of volunteer effort. The monitoring initiative will include water quality measurements, CABIN sampling, culvert assessments and electro-fishing.
Regional Akaitcho Water Monitoring Program
Deteriorating quality and quantity of water downstream from old and active mine sites near Great Slave Lake are of serious concern to the
Akaitcho Territory Government
. By carrying out monitoring work, and meshing western science with traditional knowledge, Akaitcho First Nations will help address Akaitcho citizens' concerns as well as data deficiencies identified by WWF's Freshwater Health Assessment for sub-watersheds around Great Slave Lake.
Indigenous Observation Network: Northern Community-Based Water Quality Project
This Yukon River Inter-Tribal Watershed Council project encompasses a regional Indigenous approach to addressing water quality impacts in the Yukon River watershed. The project will build on the strength and infrastructure of the Indigenous Observation Network to increase capacity for First Nations' community-based water quality monitoring and provide training in current best practices.
Water Health in Canada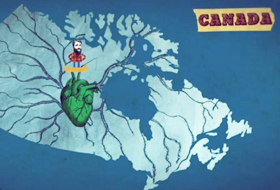 The Importance of Flow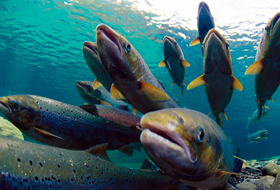 Join the Great Canadian Shoreline Cleanup