Together, for water
Loblaw Water Fund supports community water projects
WWF's Loblaw Water Fund is a grant initiative open to Canadians working on the ground to address the major threats to and health of our water wealth. Canada is home to thousands of lakes, rivers, streams and wetlands – and many of these water bodies need our help to become and remain healthy. It's not an undertaking any individual or group can do alone, which is why WWF and Loblaw are proud to support the very active freshwater community in its efforts to restore and manage our waters. The Loblaw Water Fund recognizes that we can do more together, supporting each other, than we can alone.
In 2014, the fund's inaugural year, it supported 10 projects across the country, representing nine provinces and territories. Results from those projects include:
75 hectares of habitat for freshwater species restored
Planting of over 7,200 native trees and plants
More than 1,500 volunteers engaged in conservation efforts for their local rivers and lakes
No Longer Accepting Applications for 2017

On the Loblaw

Water Fund
"Loblaw's commitment to environmental initiatives hinges on our ability to provide not just funds, but awareness, to issues that warrant nationwide attention.  Partnering with WWF allows Loblaw to deliver an environmental message to millions of Canadians, while also funding projects that impact watersheds in communities where our people live and work."

- Bob Chant, Senior Vice President, Corporate Affairs and Communication, Loblaw Companies Limited
The Loblaw Water Fund
The Loblaw Water Fund is designed to help improve the health of and address the threats to freshwater ecosystems across Canada, including lakes, rivers, streams, wetlands, and surrounding riparian zones. The fund provides grants to registered charitable organizations and not-for-profits working on critical projects that aim to conserve, protect, or restore freshwater and riparian habitats and the species living within them.
The Loblaw Water Fund will support action oriented projects that take specific steps towards ecosystem restoration and/or the collection of data for long-term monitoring initiatives.
The Loblaw Water Fund grants are made possible through partial proceeds from Loblaw's charge-for plastic shopping bag program in its stores, which removed more than seven billion plastic bags nationally since 2007.

Current Loblaw Water Fund Projects
In 2016, 15 projects received funding from the Loblaw Water Fund, with focuses ranging from microplastic monitoring in Lake Ontario's urban watersheds to restoring habitat for salmon in Katzie Slough, British Columbia.
You can explore all of the Loblaw Water Fund projects and how they are addressing the major threats to and health of our freshwater wealth at watershedreports.wwf.ca, or read more about them below.
Trout Lake Hazardous Waste Clean Up Project
Ecology North
is providing community members of Trout Lake, Northwest Territories with hands on training and capacity development for hazardous waste management and monitoring, following concerns around contamination of Trout Lake - the community's drinking water source and base for sustenance fishing and hunting. Ecology North will inventory, consolidate, and transport hazardous waste from the community landfill to a facility in Hay River, as well as collect water quality samples pre- and post-clean-up.
The Atlantic Canadian Culvert Assessment Toolkit
Petitcodiac Watershed Alliance
in Moncton, NB will create a toolkit of resources for any group wishing to assess culverts in their local area, including creating a standardized culvert assessment protocol that can be applied anywhere. The toolkit will be housed on the PWA website, and will provide online resources that include how-to videos, all associated data collection sheets, and manuals.
Upper Athabasca Basin Long Term Community Based Water, Sediment and Benthic Invertebrate Monitoring
Keepers of the Athabasca
is working to build capacity for community based monitoring throughout the upper Athabasca River Basin in Alberta. This project will expand on previous successes in filling data gaps and raising awareness and monitoring capacity in communities of the upper watershed.
"Blue Canoe" Lake Management Plan Implementation Project
Led by
Kawartha Conservation
,
The Blue Canoe Program is an action-oriented outreach program that assists landowners implementing Best Management Practices in the Kawartha watershed in Ontario. The Blue Canoe team reaches landowners by traveling "dock-to-dock" via canoe, by attending community events, and through social media with the goal of sustaining the health and ecological integrity of the Kawartha watershed.
Connecting the data dots: Building CBM capacity in the Red and Assiniboine Watersheds
The Lake Winnipeg Foundation
(LWF) will foster and support a collaborative community based network for Lake Winnipeg in Manitoba by engaging existing and new groups who are committed to water health. This network of hundreds of citizen scientists will serve as an early warning system to identify water quality challenges, track the spread of invasive species and contribute to a comprehensive, credible data set for researchers and decision makers to inform projects and policy priorities.
2016 Dartmouth Watershed Restoration and Monitoring
Clean Foundation
's Watershed Restoration team will restore and monitor streams in the Dartmouth, NS area that have become degraded due to development, urbanization, and severe weather. Project activities include debris removals, in-stream restoration, bank stabilization and riparian planting to improve fish habitat, access and connectivity, water quality and flow.
Brook Trout Habitat Enhancement & Channel Form Restoration of Bauman Creek
The rare Charitable Research Reserve
is working to restore the Blair Flats-Bauman Creek floodplain system, by expanding and improving the habitat available to brook trout in Bauman Creek, Cambridge, Ontario. This will be completed by realigning the existing channel using natural channel design principles, including, creating two pools to serve as refugia for brook trout in periods of low water flow.
Centralizing Community-Based Water Quality Data Across Canada
Community-Based Environmental Monitoring Network
(CBEMN)
through its CURA H2O research project has led the way in building water monitoring capacity in stewardship organizations across Atlantic Canada with their Water Quality Database and standardized equipment and training modules. Building off of the momentum and success that CURA H2O has had in Atlantic Canada, the CBEMN seeks to expand the dataset westward, filling in data gaps across Canada where possible. This overarching goal can be broken down into three main objectives: 1) to connect with key organizations and coordinated efforts west of Atlantic Canada; 2) to create an input field of the database for historical data 3) to create an advanced user interface to increase the security and accessibility of the database.
Restoring the Katzie Slough
Watershed Watch Salmon Society
aims to restore good overwintering habitat for salmonids in Katzie Slough, BC. With improved water quality and instream and riparian habitat, the Slough will better support salmon and provide clean irrigation water for neighbouring farms. The short term goals of this project are to remove invasive species, plant appropriate shrubs and trees, collect baseline water quality data, empower and engage citizens through hands-on activities and increase the profile of issues around agriculture and irrigation in these formerly high value fish habitats. A longer-term goal includes working with the municipality and local stewards to improve water flows and fish passage through flood gates and pumps that currently limit the habitat value of this area. Improving connectivity and flows will also address the poor water quality in the Slough.
Three Little Watersheds: Monitoring and Mitigating Threats in the Saint John and Southern Bay of Fundy Sub-watershed
Atlantic Coastal Action Program (ACAP) Saint John
will monitor water quality and fish in three local watersheds that feed into the lower St. John River, NB, carry out a stream restoration project within each local watershed, and engage with local youth through selected area schools which neighbour the project sites. Watershed monitoring will be leveraged by ACAP Saint John's existing long-term monitoring programmes. Stream restoration projects will include community volunteers engaged in watershed management in the region and will seek to address a site specific threat in each sub-watershed.
Protecting the Outoauais last truly wild river
CPAWS Ottawa Valley
successfully led the community effort to protect the last free flowing Quebec tributary of the Ottawa River – the Dumoine. While the river is now protected from industrial development, including hydro-electric development, it remains at risk due to climate change, invasive species and increasing recreational use of the area as a result of its designation. Our project aims to address all these issues by engaging local youth in developing a baseline of the state of the river and its wetlands to increase our knowledge of the area in order to better protect it. Concrete action will also be taken to remove invasive species and to address shoreline erosion in certain areas that are heavily used by recreationists.
Water quality and fish safety monitoring in the Keewatin Watershed of Arviat, Nunavut
ARCTIConnection
will employ both Inuit knowledge and community-based science to establish a baseline for water quality and fish health near Arviat, Nunavut, part of one of Canada's least known freshwater systems, the Keewatin Watershed. Water pathogen outgrowth, benthic macro-invertebrate community composition, fish body condition and mercury loads, as well as historical knowledge of water and fish quality will be monitored.
Tłı̨chǫ Aquatic Ecosystem Monitoring Program (TAEMP)
Wek'èezhìı Renewable Resources Board
(WRRB)
will continue a successful community-based monitoring program meeting the needs of the Tłı̨chǫ people in the Northwest Territories in determining whether fish, water and sediment quality are changing over time. Through use of both Tłı̨chǫ and scientific knowledge, the TAEMP will help to address the question: "Are the fish safe to eat and the water safe to drink?". Working together, Tłı̨chǫ community members, research scientists, and various TAEMP partners collect samples at on-the-land camps which rotate through each of four Tłı̨chǫ communities once every four years. The return to Wekweètì in 2016 will provide the first comparative data for that community.
Water Watch at Riverwood: A Youth and Community Engagement in Water Quality Monitoring and Protection
The Riverwood Conservancy
's Water Watch at Riverwood program will protect and improve the health of the Credit River as well as vulnerable tributary creeks and wetlands in the heart of Mississauga, Ontario by engaging community and student volunteers in on-the-ground monitoring and stewardship activities. Focused on Riverwood, a 150-acre oasis in the heart of the city, the project will promote watershed stewardship to help improve the health of local and downstream freshwater systems.
Lake Ontario Microplastics Monitoring Program
Ontario Streams
aims to engage volunteers in a large-scale microplastics monitoring program in three urban watersheds and near shore open water in Lake Ontario. Collaborating with the Ontario Ministry of the Environment and Climate Change, Lake Ontario Waterkeeper and the University of Toronto, this work will contribute to long-term microplastics monitoring and will get students involved in real-world water sampling from freshwater systems.
Deer Lake Brook Monitoring and Habitat Restoration
British Columbia Conservation Foundation
will conduct water quality monitoring and benthic invertebrate, fish and wildlife monitoring in a 300 m section of Deer Lake Brook, an urban waterway located in the City of Burnaby, BC. Invasive species removal will take place and terrestrial and aquatic habitat features will be constructed to improve conditions for fish, wildlife and benthic species. Deer Lake Brook provides vital refuge for several native species including aquatic invertebrates, fish, birds and wildlife, some of which are designated as at-risk.
Water Health in Canada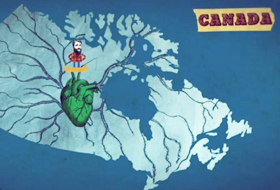 The Importance of Flow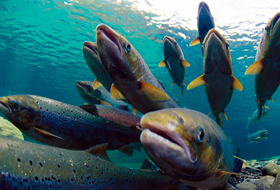 Join the Great Canadian Shoreline Cleanup