Together, for water
Loblaw Water Fund supports community water projects
Canada is home to thousands of lakes, rivers, streams and wetlands – and many of these water bodies need our help to become and remain healthy. WWF's Loblaw Water Fund is a grant initiative open to Canadians working on the ground to address the major threats to the health of our water wealth. It's not an undertaking any individual or group can do alone, which is why WWF and Loblaw are proud to support the very active freshwater community in its efforts to restore and manage our waters. The Loblaw Water Fund recognizes that we can do more together, supporting each other, than we can alone.
Over the past 4 years, the fund has supported almost 50 projects across the country. Results from those projects include:
Over 200 hectares of habitat for freshwater species restored
Planting of over 21,000 native trees and plants
More than 9,000 volunteers engaged in conservation efforts for their local rivers and lakes
THE 2018 CALL FOR APPLICATIONS IS NOW CLOSED
On the Loblaw

Water Fund
"Loblaw's commitment to environmental initiatives hinges on our ability to provide not just funds, but awareness, to issues that warrant nationwide attention.  Partnering with WWF allows Loblaw to deliver an environmental message to millions of Canadians, while also funding projects that impact watersheds in communities where our people live and work."

- Bob Chant, Senior Vice President, Corporate Affairs and Communication, Loblaw Companies Limited
The Loblaw Water Fund
The Loblaw Water Fund is designed to help improve the health of freshwater ecosystems across Canada, including lakes, rivers, streams, wetlands and surrounding riparian zones, and to reduce the threats they face. The fund provides grants to registered charitable organizations and not-for-profits working on projects that aim to conserve, protect or restore freshwater and riparian habitats and the species living within them.

The Loblaw Water Fund will support action-oriented projects that take specific steps toward ecosystem restoration and/or the collection of data for long-term monitoring initiatives.

Loblaw Water Fund grants are made possible through partial proceeds from Loblaw's charge for plastic shopping bag program in its stores, which resulted in the removal of more than ten billion plastic bags nationally since 2007.
Current Loblaw Water Fund Projects
In 2018, 11 projects received funding from the Loblaw Water Fund, with focuses ranging from improving fish passages for Atlantic salmon populations in New Brunswick to increasing capacity for First Nations' community based water-quality monitoring in northern B.C..
You can explore how the Loblaw Water Fund projects are addressing the major threats to freshwater health at watershedreports.wwf.ca, or read more about them below.
Abbotsford B.C. (Fraser-Lower Mainland watershed): Fraser Valley Conservancy - Gordon's Brook Shallow Marsh Restoration
Along its course, the Fraser River and surrounding valley support many creatures, including five species of salmon and the at-risk Salish Sucker and northern leopard frog. Historically this area was dominated by wetlands until extensive networks of drain tile were installed to create a farmable landscape. The Fraser Valley Conservancy is working to restore Gordon's Brook to vital marsh habitat and reclaim the fallow hay fields for wildlife. The project will also provide educational opportunities for students to learn about wetland restoration and take part in native plantings.

Coquitlam, B.C. (Fraser-Lower Mainland watershed): Watershed Watch Salmon Society – Restoring the Katzie Slough
Like many waterways throughout the Lower Fraser, the Katzie Slough is impacted by fragmentation, invasive species, poor water quality and low flow. Watershed Watch Salmon Society is leading efforts to protect these waters for wild salmon by engaging volunteers, landowners and Katzie Nation to take plant native trees and shrubs, organize cleanups and monitor water quality. The Watershed Watch Salmon Society will also work with all levels of government on best management practices to improve fish passage and water flows.

Fort Nelson, B.C. (Lower Mackenzie watershed): Fort Nelson First Nation Lands and Resources Department - Monitoring contamination in key watersheds in the Lower Mackenzie
Using a mix of traditional and scientific knowledge, Fort Nelson First Nation Lands and Resource Department is developing a community based monitoring initiative to proactively detect changes in the water quality of wild rivers that run downstream from major industrial sites in the Fort Nelson sub-watershed, beginning with a baseline study of the health of ecosystems and watersheds in the Liard Basin.

Yorkton, Sask. (Assiniboine-Red watershed): ALUS Saskatchewan Assiniboine Project (ASAP) - Turning Marginal Cropland into Prime Ecosystem Services Land: Partners in Wetland Preservation
Due to intense agricultural cultivation and the draining of marginal prairie wetlands, the Assiniboine watershed faces high threats from pollution and loss of habitat. The ALUS Saskatchewan Assiniboine Project will help sequester carbon, reduce run-off and conserve wetlands and, in turn, protect wildlife habitat by providing farmers with financial incentives to naturalize areas of their land.

Alton, Ont., (Great Lakes watershed): Credit Valley Conservation - Bringing back brookies in the Credit River Watershed
The Upper Credit Conservation Area is made up of more than 12 provincially significant wetlands and is a critical cold-water fish habitat. Credit Valley Conservation is working with volunteers to restore brook trout habitat by planting native trees and shrubs to prevent erosion, sinking old Christmas trees into the water to increase depth and create new spawning habitat, as well as installing 300 beaver guards and 1,000 live stakes along the shores of the Credit River.

Spring Bay, Ont. (Great Lakes watershed): Manitoulin Streams Improvement Association – Grimesthrope Creek Rehabilitation Project
The Grimesthorpe Creek is important to spawning salmonids, such as rainbow and brook trout, and other aquatic species. The headwaters and tributaries of the cold-water creek flow through crop and pasturelands, and agricultural activity has harmed its health. This project will rehabilitate the creek by installing livestock fencing, native trees, shrubs and roots to limit erosion, and create a low-water crossing area for livestock and equipment. Invertebrate and electro-fishing assessments will help assess the health of Manitoulin Island waterways and contribute to Environment Canada's CABIN program.

Utopia, Ont. (Great Lakes watershed): Nottawasaga Valley Conservation Authority - 2020 Vision: Healthy waters & community stewardship for the Nottawasaga Valley
Nottawasaga Conservation Authority is working to improve water quality, restore riparian forests and wetlands, and create more climate-resilient waterways in the Nottawasaga Valley Watersheds. Various projects will engage more than 200 volunteers to plant 20,000 trees and remove invasive Phragmites, mitigate urban and agricultural run-off that contributes to algae blooms, and enhance habitat for many of the 41 species at risk found in the valley, such as the spotted turtle, Blanding's turtle and Hine's Emerald dragonfly.

Cornwall, Ont. (St. Lawrence watershed): St. Lawrence River Institute of Environmental Sciences - Monitoring Ecosystem Health Indicators in the Upper St. Lawrence River
The St. Lawrence River is home to endangered species such as the Lake Sturgeon and beluga, however WWF's Watershed Reports revealed there are key data gaps when assessing its health. St. Lawrence River Institute of Environmental Sciences will monitor water quality, distributions of fish and invertebrate species and habitat quality of nearshore zones in the Upper St. Lawrence River, helping address the watershed's data deficient status and engage community partners, volunteers and students in the sampling activities, the results of which will be shared with provincial and national monitoring networks.

Que. (North Shore-Gaspé and Ottawa watersheds): Groupe d'éducation et d'écosurveillance de l'eau (G3E)- River monitoring for tomorrow – phase II
This Quebec-wide project, led by G3E, will bring together high schools, youth and environmental organizations to monitor the health of 13 bodies of water in the North Shore-Gaspé and Ottawa River watersheds, to address the serious lack of data on the impacts of climate change on riverine ecosystems. By studying benthic indicators and aquatic biodiversity over the long term, they will be able to document changes to water quality and the impact of climate change on these ecosystems.

Fredericton, N.B. (Saint John - St. Croix watershed): Nashwaak Watershed Association Inc. – Reducing Habitat Fragmentation and Building Resiliency in the Nashwaak Watershed
The Nashwaak River is an established salmon-producing river for the Outer Bay of Fundy Atlantic salmon population, assessed as endangered by the Committee on the Status of Endangered Wildlife in Canada (COSEWIC). It's also home to other species at risk, such as the American eel, which moves between freshwater and ocean. It's important that the highly fragmented freshwater habitat, and access to it, is improved and protected. The Nashwaak Watershed Association is using GIS and citizen-science reporting to map and assess the river's more than 985 stream crossings and, using this data, will improve fish passages.

Moncton, N.B. (Maritime Coastal watershed): Petitcodiac Watershed Alliance – Urban watershed revitalization
To better understand habitat connectivity, improve water quality and reduce pollution in the urban Petitcodiac Watershed, the Petitcodiac Watershed Alliance will monitor water quality, conduct benthic and temperature sampling and culvert assessments. The project will also deliver hands-on opportunities for the community to take part, through such activities as cleanups and rain garden construction.
Water Health in Canada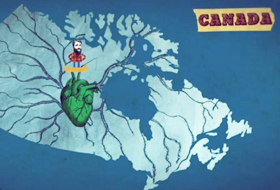 The Importance of Flow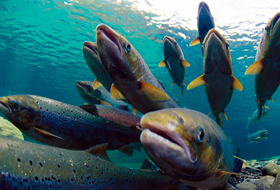 Join the Great Canadian Shoreline Cleanup