The Skeena River
WWF has been working in the Skeena region for more than a decade. B.C.'s second longest river, the Skeena, is a spectacular wild salmon river, winding 610 kilometres from its headwaters to its rich estuary near the city of Prince Rupert on the Pacific coast.
At its mouth, the Skeena estuary provides nursery habitat for salmon, foraging grounds for waterfowl, and abundant food for countless invertebrates and fish, such as eulachon and herring. It plays an essential role in the journey of millions of salmon that return to spawn every year, making it the second-largest salmon producing river in Canada.
Home to First Nations, fishing, logging and eco-tourism communities, Skeena people have traditionally depended on the forest, river and sea. But things are changing. The region is fast becoming a hot spot for industrial development: At one point, more than $64-billion in investments was being considered for projects across northern B.C. in under a decade.
Added up, the impacts from forestry, dams, and oil and gas development pose a threat to Skeena ecosystems and communities. The stress of climate change will create even more changes that threaten the river, its ecosystem, and vibrant communities.
What WWF is doing
WWF is engaging communities to help them shape a future for their river that will support sustainable livelihoods.
CUMULATIVE EFFECTS IN THE SKEENA WATERSHED AND ESTUARY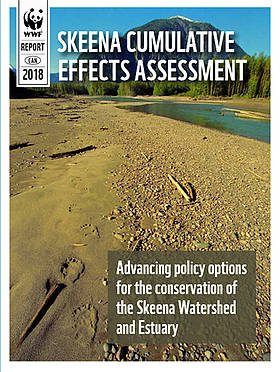 WWF-Canada assessed the impacts of human activities – LNG terminals, forestry, climate change and more – on Chinook salmon, eulachon and eelgrass.
Read the report