The Skeena River
A
unique group of wild rivers connect
land and sea in northern British Columbia's Great Bear region. Even in river-wealthy Canada, there are only a handful of places where wild rivers of this size and abundance flow unobstructed from headwaters to the sea. Rivers like the Skeena, Nass and Kitimat are integral to Canada's history and culture. They provide irreplaceable ecological services to the people that depend on them for salmon, food, livelihoods and spiritual sustenance.
Today they are at risk.
WWF has been working in the Skeena region for more than a decade. B.C.'s second longest river, the Skeena is a spectacular, wild salmon river, winding 610 kilometres from its headwaters to its rich estuary near the city of Prince Rupert on the Pacific coast.
At its mouth, the Skeena estuary provides nursery habitat for salmon, foraging grounds for waterfowl, and abundant food for countless invertebrates and fish, such as eulachon and herring. It plays an essential role in the journey of millions of salmon that return to spawn every year, making it the second-largest salmon producing river in Canada.
Home to First Nations, fishing, logging and eco-tourism communities, Skeena people have traditionally depended on the forest, river and sea. But things are changing. The region is fast becoming a hot spot for industrial development: More than $64-billion in investments is being considered for projects across northern B.C. over the next ten years.
Added up, the impacts from forestry, dams, and oil and gas development pose a threat to Skeena ecosystems and communities. The stress of climate change will create even more changes that threaten the river, its ecosystem, and vibrant communities.
What WWF is doing
WWF is engaging communities to help them shape a future for their river that will support sustainable livelihoods.
Studying how cumulative impacts from development are affecting estuary environments.
Advocating for policy to protect the Skeena River estuary including Flora Banks, the largest eelgrass bed in the Skeena estuary.
Flowing into the Future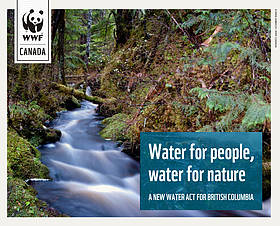 Wild Rivers of the Great Bear