The St. John River


Wolastoq, the Maliseet people call it: beautiful river. For as long as stories tell, the St. John—a maze of blind bays, tributaries, lakes, and marshlands—has been the lifeblood of New Brunswick. The towns that grew along its banks structured their lives around its flows: its freezes and thaws, its log drives and floods, and the run of Atlantic salmon coursing from the Bay of Fundy upriver to spawn. Today, in a changing world, we must act to ensure that these resources remain healthy and secure. As part of WWF's Living Rivers Initiative, we are working to help the St. Johns' communities establish that vision and bring it to life.



Over the next 5 years, WWF will work in partnership with local organizations, scientific experts, communities and river stewards from all walks of life to advance two key objectives toward restoring resilient and healthy St. John by:
(1)
Establishing a broadly shared vision and commitment, among diverse stakeholders, to engage in collaborative action to restore and sustain the health of the St. John River and its waters.
(2)
Bringing the best science to the table to develop an action plan to restore more natural flows to the river and its tributaries.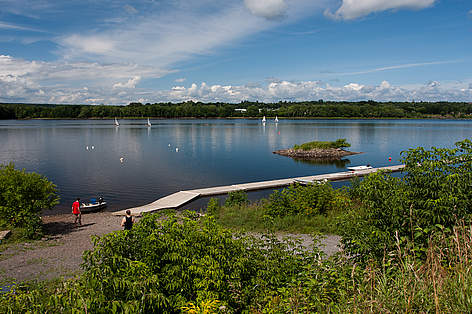 © Robert Rangeley/WWF-Canada
WWF is bringing its convening ability and scientific focus to help chart a sustainable path for the St. John. Our intent is to help demonstrate a future where it is possible to meet the water needs of both people and nature, not just here, but in watersheds across the country.