Climate & Energy
Choosing a better future
Canadians, along with other global citizens, are witnessing the devastating effects of climate change on our world. We understand these impacts are a result of human behaviour and will, without action, only get worse – leading to droughts, floods, food shortages and other drastic events. 
We also know that this is not the future we want. And it doesn't have to be. 
In Canada, we're a big part of the problem. The energy that powers our cities and industries is heavily supplied by fossil fuels, such as oil, gas and coal. We're rapidly ramping up oil and gas production – including some of the most post polluting sources in the world – for export. These release greenhouse gases into the atmosphere and transform ecosystems at an alarming rate. 
But we're also well poised to lead the world in solutions: We have an abundant renewable energy, world class leaders in clean technology and an innovative and highly skilled workforce. 
As Canadians, we have a choice. We can choose a future where climate change is no longer a threat. A future with clean air, vibrant cities, and healthy lakes and forests. To do that we need to shift the way we think about energy. Because energy – how we create it and how we use it – is at the heart of the issue.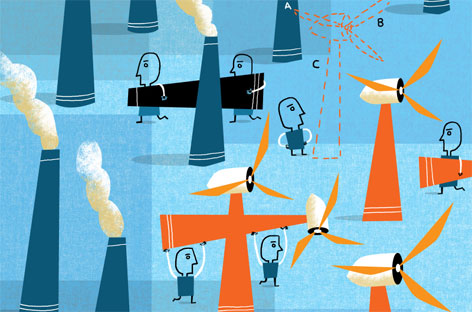 © James Yang / WWF-Canada
Canada's natural advantage
Canada has some of the greatest renewable energy potential on the planet. If we invest in our "natural advantage"—the power of our oceans, our wide-open spaces, and our rushing rivers—
we can make
renewable energy
Canada's source of power for the next generation
.
We have the means and expertise to do this. And we can
develop the technology to export our green energy technology and skills
to countries searching for low-carbon alternatives.