600,000 Electric Vehicles
WWF-Canada is taking bold strides towards a climate-friendly future. In 2012, we're launching a nation-wide campaign to champion electric-powered transportation.
By 2020, we want 600,000 electric vehicles (EVs) on Canadian roads and one in every ten cars sold to be electric.
Realistic? We think so. As Canadians recognize the
economic and environmental benefits
of going electric, sales will climb exponentially.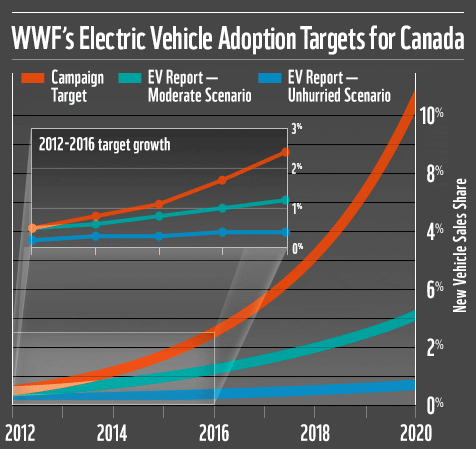 There will be challenges to face to get there, but WWF has created the infographic below to show the path forward to the goal AND to demonstrate the long-term environmental benefits of taking these steps!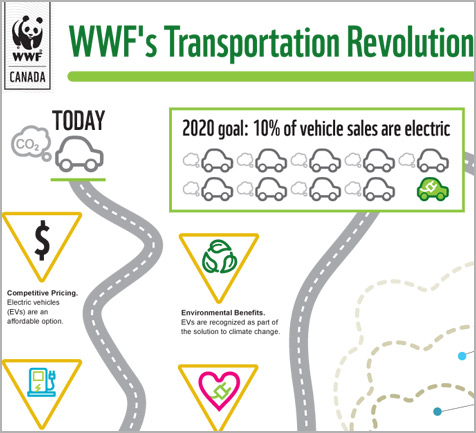 (click on the image to expand)
How do we make sure that happens? WWF-Canada is asking governments to install charging stations and offer EV purchase incentives. We're encouraging the auto industry to put more EVs on dealership lots so that more consumers can see, drive, and buy them.
We're persuading utilities to provide charging infrastructure and educate their customers about electric vehicles. We're working with businesses to draft EV rental policies, electrify their corporate fleets, and provide charging infrastructure for employees and customers.
Finally, we want to equip Canadians with the right information and tools to feel confident in trying out and owning an EV. To find out what it's like to be a part of the transportation transformation, read our
profiles of real-life EV users.
Don't forget, EVs are only a piece of the transportation solution to climate change.
Find out what else can be done!