Killer whales
Southern resident killer whales
Survival has become uncertain for the southern resident killer whale. For years, pressures on these awe-inspiring whales — icons of the Pacific coast, culturally significant to First Nations people and beloved by tourists —
have been increasing
. Until the birth of a calf in May 2019, the population hadn't experienced a successful birth since 2016, and since then, 13 southern residents have been declared missing and presumed dead.
Today, only 76 wild southern resident killer whales remain, and the next few years will determine if the group can rebuild or continue toward extinction.

Threats
Food shortage
The orcas' continuing existence is threatened by food shortages due to the decline of Chinook salmon stock. Unlike other orcas, they don't feast on seals found in the Pacific Ocean. Instead, they primarily eat the fatty fish that is now considered at-risk. When Chinook is plentiful, the southern residents are known to produce calves. When stock is in decline, the endangered whales are less likely to reproduce.
Marine traffic
Ships and boats in the Salish Sea create disturbances for the southern residents. Underwater noise makes it difficult for these orcas to use echolocation, which allows them to find and hunt salmon. The presence of boats primarily for fishing and whale watching near pods can also affect their ability to effectively hunt. Although they have been legally declared Endangered in both Canada and the United States, threats to their survival continue to mount. In fact, shipping and associated underwater noise is projected to grow significantly in coming years as the port of Vancouver expands and proposed shipping projects get approved.

What WWF is doing
Since 2011, WWF has been working to support quiet oceans for marine species on the Pacific coast, including the endangered killer whales. We have convened workshops to bring together researchers, policy makers and industry to find solutions to underwater noise pollution. In addition, we continue to work on Industry efforts such as the Port of Vancouver's ECHO program and
Green Marine
to find practical solutions to reducing underwater noise pollution. In 2018, we joined a coalition of conservation organizations to pressure the government to take action to reduce threats through legal and other means. The government has since strengthened regulations that will help the southern residents in the short term such as limiting Chinook fishing, enacting some foraging area closures and sanctuary zones and industry have taken on measures such as decreasing speeds for vessels in critical areas of the Salish Sea. We are optimistic these new measures, meant to protect the killer whales from further decline, will be effective in the 2019 season and want to see similar, if not increased measures in the future. We will continue to push for long term solutions and sustained efforts to reduce threats to the Southern Resident Killer Whale.
AT A GLANCE
Scientific name: Orcinus orca
Status: Endangered
Adult Weight: Up to five tonnes
Diet: Chinook salmon
Population: 76 individuals
Location: Southeastern Alaska to central California. In spring and summer, they can be found off the coast of British Columbia in the Salish Sea.
Help Canada's Whales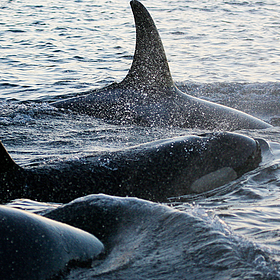 Southern resident killer whales face numerous threats, including a shortage of food and underwater noise. Help us get them the protections they need to survive.
DONATE NOW