Marine Protected Areas
Oceans at risk
Our oceans are in crisis worldwide. In 2015, WWF's
Living Blue Planet Report
warned of a 49 per cent decline in populations of marine species between 1970 and 2010. About one in four species of sharks, rays and skates are now threatened with extinction, due primarily to overfishing, and 29 per cent of marine fisheries are overfished. Climate change is another serious threat to ocean health, as marine ecosystems continue to deteriorate due to ocean warming and acidification.
Healthy oceans need protection
Healthy oceans depend on a network of marine protected areas (MPAs) to help protect species, habitats and ecosystems. WWF-Canada seeks to support and even surpass Canada's commitment to protect 5 per cent of Canada's marine areas by 2017 and 10 per cent by 2020. WWF strongly supports and encourages efforts by Canada and other nations around the world to develop and implement MPAs with high ecological standards. Effective MPAs are off-limits to commercial uses, including oil and gas extraction, commercial fishing and seabed mining. We promote the establishment of MPAs closer to shore where people have the biggest impact on the ocean.
MPAs shelter ocean life and habitats so they can recover from human impacts like pollution or overfishing. They are similar to protected areas on land, such as National Parks: sites set aside to conserve the natural environment for the long term, protecting not just one single species, but the ecosystem as a whole.
So far, just 1 per cent of Canada's oceans are protected
At present just over 1 per cent of Canada's oceans are protected — an area just a bit larger than Nova Scotia. And only a tiny portion of our ocean, approximately 0.01 per cent, is highly protected, meaning no fishing or oil and gas extraction is allowed inside the MPA. Most MPAs do not exclude commercial fishing, and one even allows for oil and gas development within its boundaries.
In 1992, Canada, along with the majority of countries, signed the Convention on Biological Diversity, with the aim to halt the destruction of habitats and ecosystems by conserving at least 10 per cent of coastal and marine areas by 2020. Government can make measures other than MPAs count towards this total, but relying too heavily on other measures could undermine the purpose of the 10 per cent target: ocean conservation measures should be effective, representative and connected.
Working to ensure that 10 per cent of our marine areas are protected by 2020
WWF-Canada advocates for MPAs in all three oceans. We are working to ensure that the government of Canada is held accountable for its commitment to protect 5 per cent of Canada's marine areas by 2017 and 10 per cent by 2020, and to ensure that Canadian MPAs mean real protection for the ocean, and are more than just a name on a map.
Infographic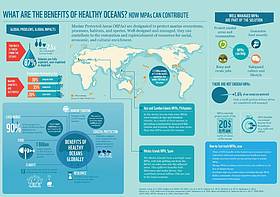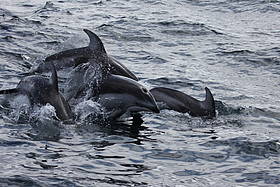 Pacific white-sided dolphins in Hecate Strait, a proposed Marine Protected Area
Canada has many Marine Protected Areas, of varying sizes and with different levels of protection. This interactive map allows you to explore some of the existing MPAs (purple) and proposed (blue) MPA sites identified by the federal government in all three of Canada?s oceans and the Great Lakes.