Right whale
A species at risk
North Atlantic right whales are among the most endangered large whales on the planet. Once, thousands of right whales could be found in the Atlantic Ocean, but by the late 1880s they had been hunted to near extinction.
Around 450 North Atlantic right whales remain.

Threats
The population
continues to decline
because of human activities such as vessel collisions and entanglement in fishing gear. Over
80%
of North Atlantic right whales have been entangled at least once in their lifetime.
During the summer, North Atlantic right whales can be found feeding on zooplankton and krill around the Bay of Fundy, off Nova Scotia and in the Gulf of St. Lawrence – a location that is increasingly used by right whales in recent years. This area experiences a significant amount of shipping traffic and commercial fishing.

A summer of loss
In the summer of 2017, about
3 per cent of the population
were found dead in the Gulf of St. Lawrence.
Between June 6th and September 15th, 2017, 12 dead right whales were reported in the Gulf of St. Lawrence. In that period, five also died in U.S. waters. Necropsies revealed vessel collision and entanglement were to blame for this unprecedented event.

What WWF is doing
We are currently working with partners to better understand North Atlantic right whale distribution in the Gulf of St-Lawrence. This information will allow us to improve management measures and push for an increase in marine protected areas – where oil and gas development and commercial fishing are prohibited – in their critical habitats.
At a glance
Scientific name: Eubalaena glacialis
Population: About 450
Weight: 50-70 tonnes
Speed: 8 km/h
Location: North Atlantic right whales migrate between feeding grounds in northern waters of the Atlantic Ocean and calving grounds in southern U.S. waters.
Endangered Species
The North Atlantic right whale is federally protected under the Species at Risk Act in Canada and the Endangered Species Act in the United States of America.
Help right whales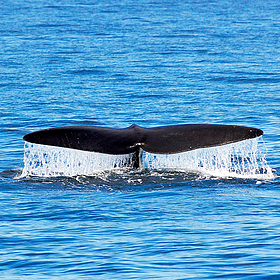 Your gift today will help us continue our work on one of the most endangered marine mammals on Earth.
Please donate today.