Our Donors
Join a group of extraordinary change-makers
Our major donors are individuals with a passion for Canada's natural landscapes and the wildlife they support. They are foundations and corporations committed to a sustainable future where humans and nature thrive. They are shaping our planet's future and—in the process—inspiring their colleagues, their communities and all of us here at WWF.
We invite you to join their distinguished ranks.
Recognition & accountability
When you make a major gift to WWF, you're entrusting us with a significant investment. That's why we're committed to providing full accountability.
Each year, you'll receive a personalized report explaining exactly how your investment is driving conservation across Canada.
For donors looking for deeper involvement, we can arrange one-on-one meetings with WWF conservation experts and opportunities to see the impact of your gift on the ground — or on the water, as the case may be.
Want to connect with supporters who share your level of commitment to conservation? Throughout the year, we organize events such as receptions and briefings to bring our major donors together. We also offer exclusive Google Hangouts and open houses at our regional offices.
And, of course, we would be delighted to recognize your generosity in our
annual report
and other appropriate venues.
It all starts with a call or email. Contact our
Major Gifts team
to discuss how you can make a difference.
Donor profile
"The Arctic is vulnerable and it is our responsibility as Canadians to take care of it."–Karine Blatter
Karine Blatter has always had a soft spot in her heart for wildlife and nature. She and her husband support WWF's Arctic program because of their passion for protecting Canada's natural beauty. "My family loves living in Toronto, but our ideal vacation is to get away from everything and go into nature," says Karine. "My favourite places are those that are still untouched – like much of the Arctic. It is clear how climate change is negatively affecting this region and its wildlife. The Arctic is vulnerable and it is our responsibility as Canadians to take care of it."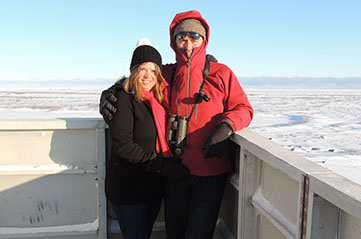 Karine Blatter with her husband, Rudi, on a polar bear adventure with WWF-Canada in Churchill, MB.