Living Planet Report 2014
Canadians must choose environment and economy for strong future
WWF's 2014 Living Planet Report calls for sustainable solutions to heal the planet as global wildlife populations continue to decline.
The report, using improved methodology, found that measured wildlife populations have dropped by more than 50% in just 40 years. During the same period, our Ecological Footprint – humanity's demands on nature – continued to grow.
Taken together, biodiversity loss and an unsustainable footprint threaten natural systems and human well-being, but can also point us toward actions to reverse current trends. The report calls for action on strategies to preserve, produce and consume more wisely, and includes examples of how communities are already making better choices to reduce footprint and biodiversity loss.
The Living Planet Report reveals that Canadians are using approximately 3.7 times their share of the Earth's annual productivity, part of a global trend of increasing demand for resources by a growing population. This trend is putting tremendous pressures on our planet's biodiversity and is threatening our future security, health and well-being. The correlated decline in biodiversity threatens not only the balance of our ecosystems, but also economic opportunities.
Key Findings
Populations of fish, birds, mammals, amphibians and reptiles have declined by 52% between 1970 and 2010.
Humanity's demand on the planet is more than 50% larger than what nature can renew.
We are currently using the equivalent of 1.5 planets to support our activities – if everyone on Earth lived as the average Canadian does, we'd need 3.7 planets to support our demand.
Research cited in the report found that climate change is already responsible for the possible extinction of species.
Canada has the 11th largest per capita Ecological Footprint of 130 countries included, behind: Kuwait, Qatar, United Arab Emirates, Denmark, Belgium, Trinidad and Tobago, Singapore, United States of America, Bahrain and Sweden.
About the Living Planet Report
The
Living Planet Report 2014
is the tenth edition of WWF's biennial flagship publication. With the theme "Species and Spaces, People and Places," the report tracks over 10,000 vertebrate species populations from 1970 to 2010 through the Living Planet Index – a database maintained by the Zoological Society of London. The report's measure of humanity's Ecological Footprint is provided by the Global Footprint Network.
This year's Living Planet Index features updated methodology that more accurately tracks global ecosystems and species, and provides a clearer picture of the health of our natural environment. While the findings reveal that the state of the world's species is worse than in previous reports, the results also put finer focus on available solutions.
Watch Marco Lambertini, Director General of WWF International, discuss the report and the impact of our lifestyles on poverty worldwide.
Watch Kookie Habtegaber, Green Economies Lead at WWF International, discuss the importance of economy to conservation.
Healthy nature is the foundation of a healthy economy. Canada's long-term prosperity depends on balancing our economic and ecological health and securing Canada's true wealth, our environmental riches. We have an opportunity to lead the way, reducing our footprint and moving towards a more sustainable future. As the Living Planet Report shows, now is the moment for us to work together for a better future, where people and nature can both thrive.
Living Blue Planet Report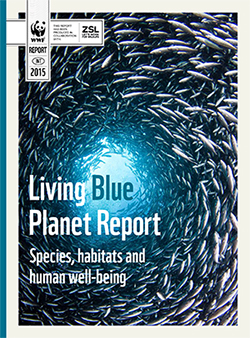 The WWF Living Blue Planet Report found that the ocean has lost about 50% of its vertebrate populations - such as sharks and turtles - but solutions do exist to turn the tide.
This new study of marine mammals, birds, reptiles and fish shows that populations have been reduced on average by half globally in the last forty years, with some species essential to commercial fishing including tunas, mackerels and bonitos declining by close to 75%.
While over-exploitation is identified as the major threat to ocean biodiversity, the study also finds that climate change is causing the ocean to change more rapidly than at any other point in millions of years. Rising temperatures and increasing acidity levels caused by carbon dioxide aggravate the negative impacts of overfishing and other major threats including habitat degradation and pollution.
The Living Blue Planet Report is based on the Living Planet Index, a database maintained and analyze by researchers at the
Zoological Society of London (ZSL)
.

Global Ecological Footprint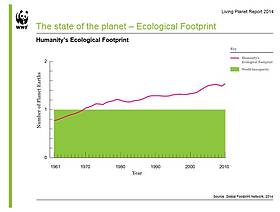 Living Planet Index