Go Wild with WWF-Canada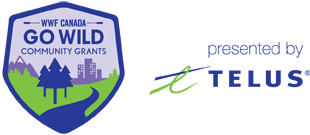 Abundant freshwater, unspoiled wilderness and iconic rainforest, prairie and Arctic landscapes are all part of our national identity. From coast to coast to coast, Canada is bursting with natural riches, diverse species and varied ecosystems that sustain us and provide benefits essential for a healthy life. To celebrate Canada's 150th, Go Wild projects across the country are working to restore wildlife habitat, monitor species at risk and generate solutions to the conservation challenges in our communities so that nature can thrive today and for the next 150 years.

We are now accepting applications until April 28, 2017. Click here to access the online application form.
Apply now