Volunteer Spotlight: October 2016
Sue Grant
Customer Service and Administrative Assistant Volunteer
Donor Relations – Toronto office
Volunteer since: March 2014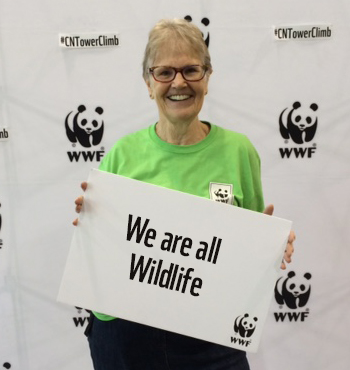 What inspired you to volunteer at WWF-Canada?
I was inspired by a "Canada Reads" event where David Miller read with passion, a section of Margaret Atwood's book, "Year of the Flood". This was at the Reference Library in February 2014 and being relatively new to the city, I was also in the midst of scouting out volunteer opportunities. I came away that night thinking WWF would be a strong possibility. Doing further research and seeing a volunteer opportunity, I applied – and – here I am. I also have travelled extensively and have seen WWF's worldwide profile and feel it embodies my values.
How have you benefitted from your volunteer experience?
I've benefitted from volunteering at WWF by meeting staff members with varying backgrounds and understanding their working involvement in protecting the future of nature. I've acquired new skills using databases and online platforms I've never used before.
What did you learn about WWF, species or conservation that you didn't know before you were a volunteer?
I have learned about the various conservation projects WWF is working on; making more aware of what I can do to advocate for a better future.
What's your favourite species or wild space?
Having been to Africa, my favourite species are of the BIG type: Tiger, leopard, rhino, elephant and the graceful giraffe. However, Georgian Bay cottaging keeps me aware of turtles, snakes and other aquatic life as well as water levels.
How do you connect with nature outside of your volunteer shifts at WWF?
I enjoy the outdoors (even in winter) walking in different areas of the city and in the summer I kayak, swim and sail at Georgian Bay. My adventure travels have involved a lot of hiking and time in natural surroundings.
Free Email Newsletter
Get the latest news
on WWF successes and upcoming events delivered straight to your inbox every month.
Thank You!

TELUS is proud to be the presenting sponsor of WWF's volunteering program, championing passionate and hardworking conservation volunteers for the future.