Together, for water
Loblaw Water Fund supports community water projects
WWF-Canada and Loblaw Companies Limited are incredibly proud of the projects we have been able to support from 2014–2020 through the Loblaw Water Fund. We are grateful to have been even a small part of the work completed from coast to coast to coast to ensure that all of Canada's water is healthy. It has been inspiring to see the impact that $1.57 million has had on 73 projects over the years. Together, we restored 3,340 hectares of freshwater ecosystems, planted 80,000 native plants, collected almost 15,000 samples and engaged over 16,000 Canadians!

While freshwater health across Canada is still an important focus for WWF-Canada, there will be no future rounds of funding from the Loblaw Water Fund.

The Loblaw Water Fund has helped us get closer to our collective freshwater goals, and as we look to the future, we're inspired by all that we've accomplished. We know that our work doesn't end here, and we will continue working to safeguard Canada's freshwater.

What we've accomplished through the Loblaw Water Fund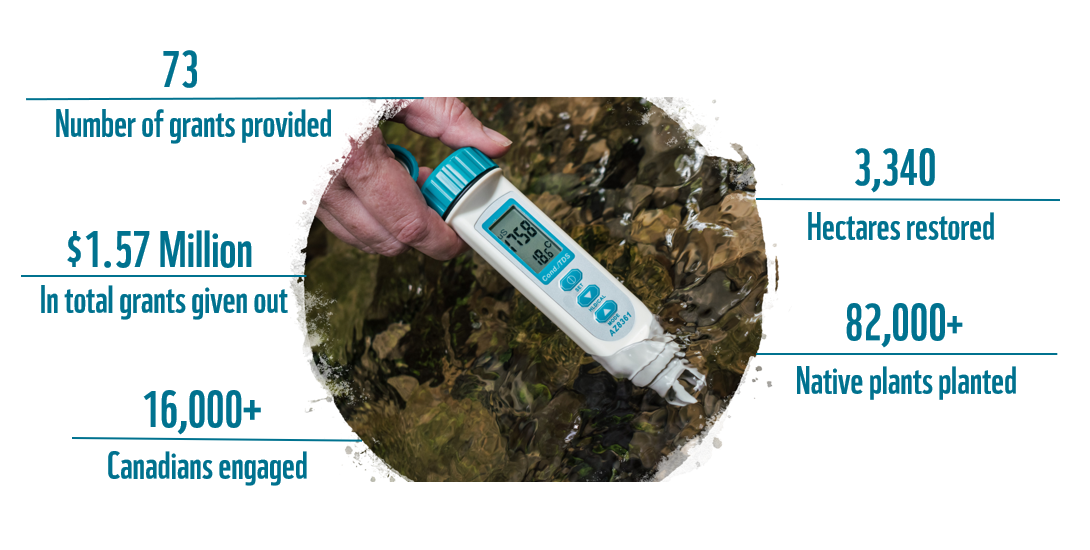 See Loblaw Water Fund projects in action
On the Loblaw

Water Fund
"Loblaw's commitment to environmental initiatives hinges on our ability to provide not just funds, but awareness, to issues that warrant nationwide attention. Partnering with WWF allows Loblaw to deliver an environmental message to millions of Canadians, while also funding projects that impact watersheds in communities where our people live and work."

- Bob Chant, Senior Vice President, Corporate Affairs and Communication, Loblaw Companies Limited
The Loblaw Water Fund
The Loblaw Water Fund is designed to help improve the health of freshwater ecosystems across Canada, including lakes, rivers, streams, wetlands and surrounding riparian zones, and to reduce the threats they face. The fund provides grants to registered charitable organizations and not-for-profits working on projects that aim to conserve, protect or restore freshwater and riparian habitats and the species living within them.

The Loblaw Water Fund will support action-oriented projects that take specific steps toward ecosystem restoration and/or the collection of data for long-term monitoring initiatives.

Loblaw Water Fund grants are made possible through partial proceeds from Loblaw's charge for plastic shopping bag program in its stores, which resulted in the removal of more than ten billion plastic bags nationally since 2007.

Current Loblaw Water Fund Projects
In 2019, 12 projects received funding from the Loblaw Water Fund, ranging from preventing excess nutrients from cattle ranches from entering nearby streams in Saskatchewan to equipping citizens with their own water monitoring kits to test their local waterbodies throughout Canada.
You can explore the Loblaw Water Fund projects at watershedreports.wwf.ca, or read more about them below.

Yorton, Saskatchewan: Assiniboine Watershed Stewardship Association Inc. — Restoring Riparian Habitat in the Assiniboine River Watershed 
The Assiniboine River Watershed's aquatic ecosystems are at high risk of degradation from agriculture and livestock operations, which allow contaminants and excess nutrients to enter the waterways. The AWSA aims to improve the aquatic and riparian health at two locations in the watershed by providing an incentive for ranchers to block direct access of their cattle to creeks, streams and rivers. This will be done through exclusion fencing and off-site watering opportunities. Just over three kilometres of riparian habitat will be fenced off and restored through the planting of 400 trees and shrubs, and cattle will be provided with an alternative water source. 
Exeter, Ontario: Ausable Bayfield Conservation Foundation — Restoring Wetlands to Improve Water Quality for Freshwater Mussels and Turtles in the Ausable River 
This project will restore wetlands to improve freshwater mussel and turtle habitats in the Ausable River. The main threats to at-risk turtles include habitat loss (mainly from development), road mortality, predation, the pet trade and invasive species. The ABCF will complete four habitat restoration initiatives including wetlands, water retention ponds, vegetation filter strips and tree plantings. These enhancements will be monitored, and the stewardship actions will improve water quality and freshwater mussel and turtle habitat. 
Lunenburg, Nova Scotia: Bluenose Coastal Action Foundation — Doubling Down in Nova Scotia: Monitoring and Restoration within the LaHave and Nictaux River Watersheds
This project will allow the continuation of long-term water quality monitoring within the LaHave River, and collaboration with the Clean Annapolis River Project (CARP) to monitor water quality within the Nictaux River Watershed. By assessing barriers, monitoring fish species, increasing access to habitat, and monitoring water quality, the project can help alleviate declines in biodiversity due to human impacts, and highlight areas that will require attention in the future. They will also create a long-term record of the rivers' health and foster a sense of stewardship through public engagement and education.
Trois-Rivières, Quebec: Comité ZIP Les Deux Rives — Planting 20km of riparian bands in agricultural settings for the restoration of Lac-Saint-Paul
For the past five years, the committee has collaborated with almost 80 agricultural producers in the Lac-Saint-Paul watershed to plant 25 km of riparian vegetation near water bodies that pass through their lands. In the third phase of this project (2019-2020), agreements have been signed with 16 agricultural producers to plant an additional 20 km of vegetation, which helps prevent sediment and excess nutrients from entering the lake, and creates corridors for animals, while creating vegetation that attracts pollinators and helping with erosion reduction and temperature regulation. Furthermore, a water quality assessment will be completed for the tributaries of Lac-Saint-Paul.  
Sudbury, Ontario: Junction Creek Stewardship Committee Inc. — Monitoring and Promoting Urban Stream Health 
Junction Creek is an important and valued watershed that connects the communities within Greater Sudbury. This project will enable the continued revival of the urban stream through research, restoration and community engagement. The Junction Creek Stewardship Committee will collaborate with community partners to fulfill long-term monitoring initiatives of Junction Creek as it recovers from the degradation caused by urban pressures and historical mining and logging practices; fish communities will be studied to complement past research, fill data gaps and evaluate stream health; brook trout distribution and habitat will be assessed to reflect the success of their reintroduction into the creek; and riparian habitat restoration activities will address known threats to water quality while engaging the community in water stewardship. 
Miramichi, New Brunswick: Miramichi River Environmental Assessment Committee
Developed by Environment and Climate Change Canada (ECCC), the Canadian Aquatic Biomonitoring Network (CABIN) protocol is now a nationally applied technique for assessing the biological condition of freshwater systems. The Miramichi River Environmental Assessment Committee (MREAC), in partnership with the Esgenoôpetitj Watershed Association and ECCC, will implement the CABIN protocol on four never-before sampled river systems within the Miramichi watershed. An eDNA sample will also be collected at each of the sampling sites and will feed into the broader DNA-based Reference Condition Approach (RCA) for Atlantic Canada. 
Souris, Prince Edward Island: Souris and Area Branch of the PEI Wildlife Federation — Restoration and Monitoring in Northeastern PEI 
Through this project, the Souris and Area Branch of the PEI Wildlife Federation will maintain and improve fish populations by completing fish surveys and habitat restoration in northeastern PEI. The Atlantic salmon and Brook trout populations here are amongst the best on the island, with overall populations remaining steady and even growing in some areas. The monitoring will provide baseline data for fish numbers and the stream restoration activities will improve aquatic habitat which is critical for preservation of the species.
Duncan, British Columbia: Somenos Marsh Wildlife Society — Somenos and Quamichan Lakes Clean Water Action Project 
Somenos and Quamichan Lakes, on southeastern Vancouver Island, face high threats from pollution and climate change. Water quality is poor because of phosphorus run-off from surrounding land and the increased pressure that comes from hotter, drier and longer summers. These factors have led to eutrophication and toxic blue-green algal blooms—the habitat is now unusable by fish for half of the year. The Somenos Marsh Wildlife Society and the Cowichan Land Trust are teaming up to work with waterfront property owners, First Nations groups and community volunteers to restore riparian buffer areas in key locations around the lakes. This will help to reduce pollution run off and increase carbon sequestration. The local community will be engaged through volunteer planting events and a Lake Keepers workshop. 
Canada-Wide: Water Rangers
Water Rangers is enabling water quality testing in 25 data-deficient sub-watersheds. This project will equip communities with citizen science test kits, provide them with online training and connect them to a growing network of communities participating in monitoring. Using equipment that allows testers to understand basic water health parameters such as temperature, clarity, pH, hardness, alkalinity, dissolved oxygen and conductivity, they'll collect baseline data and educate their communities on the value of long-term monitoring. When people learn about, then test, water they are more likely to act to protect waterways. The project connects the collected data to regional and national databases to help fill gaps.
Utopia, Ontario: Nottawasaga Valley Conservation Authority
The capstone year of the 2020 Vision of Healthy Waters project includes a suite of three-year (2017–2020) projects targeting water quality improvement, habitat restoration and climate change resiliency. These projects are located within the Nottawasaga Watershed, which discharges into Georgian Bay. They address the complex issues facing streams, riparian habitats and wetlands. The projects help with watershed restoration targets such as stream connectivity, biodiversity, reducing thermal impacts exacerbated by climate change, meeting Provincial Water Quality Objectives and enhancing habitat for species. The projects also address habitat loss and restore riparian forests and wetlands.
Cree Nation of Wemindji, Quebec: Wemindji First Nation Youth Department
Youth in the Cree Nation of Wemindji want to take care of waterways in and around their community. The rivers, lakes and springs here have been important to their ancestors since time immemorial and are now important to them. They have been learning cultural teachings about water, and now wish to complement the stories with scientific water quality data. This project is a baseline study of ten culturally important freshwater sites, including Old Factory Lake and River, the Maquatua River, and two natural springs located just outside the town, which are often used for drinking water. Once baseline data are established, and Cree youth leadership is developed, the monitoring will likely become an annual activity, so the area will no longer be data-deficient.  
Victoria, British Columbia: World Fisheries Trust
The Coastal Cutthroat Urban Trout Revival project will evaluate and rehabilitate freshwater habitats and water flows that are necessary for improved cutthroat populations in the Colquitz River and Craigflower and Hospital Creeks in Victoria. These waterbodies are impacted by pollution, flow regulation and development. The project will create and maintain healthy waterways and ecosystems in these neighbourhoods. The Coastal cutthroat trout is an iconic salmonid sub-species. Improving and maintaining its habitat with community support, in the face of increasing development pressures, will provide incentives for continuing this sort of work both locally and further afield. The work will also benefit other aquatic species in these streams, including Coho salmon.
Water Health in Canada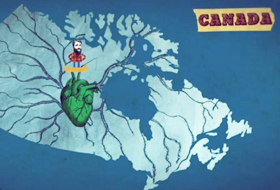 The Importance of Flow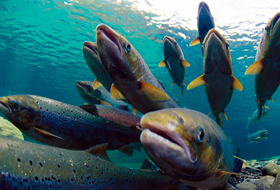 Join the Great Canadian Shoreline Cleanup