WWF-Canada's Quebec program is primarily responsible for three projects, all of which touch upon the wildlife, habitats and ecosystems native to the province, and two of which are directly focused on urban areas.

The team works on issues connected to the St. Lawrence River from the Great Lakes to the gulf, and on building resilient communities through urban and aquatic biodiversity projects.
Biopolis

The parks, green spaces and waterways around the island of Montreal are home to a stunningly diverse array of flora and fauna. Nearly 360 bird species, 180 species of bee and several species with special conservation status of endangered, vulnerable or near threatened find refuge in the natural spaces around the city.

Biopolis is the first platform in Canada to bring together citizen, scientific and academic communities, as well as decision-makers and organizations working in the field of biodiversity, to share knowledge, projects and expertise in urban biodiversity. The platform promotes research, effective solutions and best practices for protecting and enhancing urban biodiversity.

A window onto Montreal's urban biodiversity scene, the Biopolis website is a showcase for innovative projects from all sources. It features bioneers – the researchers, citizens and project leaders who are profiled and promoted on the platform, as well as a resource center that acts as a central repository of documents on the most recent trends and best practices in urban biodiversity.

A site in constant evolution, Biopolis will continue to grow along with the Montreal community, with more Canadian cities to follow suit in the coming years.

Blue Montreal

Every city has secrets hiding under its paved roads, historic buildings and modern structures. In Montreal, those secrets take on a particularly powerful form: hidden rivers and streams. Some cities have recognized the potential of "daylighting" these water systems, bringing aquatic life back to the middle of the city. The results speak for themselves: enormous benefits are seen at both the community and biodiversity level.

With Blue Montreal, WWF-Canada aims to breathe new life into Montreal's aquatic ecosystems, give water back its rightful place in the urban landscape, improve water management and strengthen resistance to climate change. Five boroughs have already been targeted and three types of revitalization work have been proposed: daylighting an underground river, building a new urban river or developing blue alleys.
St. Lawrence River and Gulf of St. Lawrence

The Quebec team works to create marine protected areas, making fisheries sustainable and protect the St. Lawrence beluga, in addition to a focus on the issues presented in the Quebec Maritime Strategy as they relate to the conservation of our natural heritage.
WWF EXPERT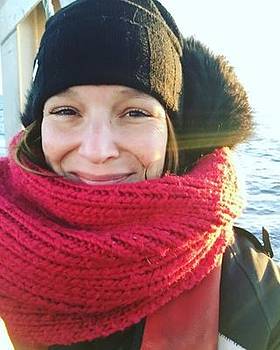 Sophie Paradis
Director, Quebec region