The monarch, well known for its distinctive orange, black and white markings, is one of the most recognizable and strikingly beautiful species of butterfly. Adult monarch butterflies have two pairs of brilliant orange-red wings, featuring black veins and white spots along the edges. Males have a distinguishing black dot along the veins of their hind wing. 

Each fall monarchs set out on an incredible 5,000-kilometre journey to their wintering sites in the mountain forests of Mexico, where they cluster together from late October through March. It's one of the world's longest insect migrations.

© Frank Parhizgar / WWF-Canada
The Monarch's migration
Phase one – fall and winter
Many monarchs journey from southern Canada through the United States to Mexico, where they overwinter in forests of oyamel fir trees. Although most of these trees are now located in protected areas, many have already been lost.

Phase two – spring
The monarchs begin the journey north. Female monarchs stop to lay their eggs on milkweed plants where they can. The caterpillars eat the leaves, eventually transforming into butterflies that continue northward.

Phase three – summer
Two to three generations after leaving Mexico, the monarchs begin to arrive in southern Canada.
Monarch habitat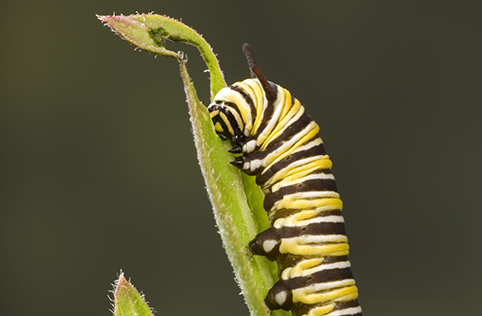 © Frank Parhizgar / WWF-Canada
In their caterpillar stage, the monarch's sole source of food is the milkweed plant. Monarchs lay their eggs on milkweed plants so the caterpillar can begin to feed right away.
Once they emerge as adults, they can start sipping nectar from a variety of native flowers. Some favourites are echinacea, black-eyed susan, sage, goldenrod, zinnias and dahlias.

Steps you can take to help monarch butterflies:
1. Plant milkweed:
Common milkweed (Asclepias syriaca) – grows in well-drained soil
Butterfly milkweed (Asclepias tuberosa) – grows in well-drained soil
Swamp milkweed (Asclepias incarnata) – grows in damper, marshy areas
2. Plant these and other butterfly friendly flowers:
Purple coneflower (Echinacea purpurea)
Black-eyed susan (Rudbeckia hirta)
Canada goldenrod (Soilidago canadensis)
How WWF helps
With one of the longest migrations of any insect in the world, there are many places where monarchs can become vulnerable. That's why WWF is working across the monarch's epic migration route to conserve its habitat.

As part of a conservation network across Canada, the United States and Mexico, we're fighting to protect forests, combat climate change and preserve the monarch's migratory path. Plus, we're encouraging the development of pollinator-friendly habitats through programs such as:
Key Facts
Scientific name: Danaus plexippus
Common name(s): Monarch butterfly
Status: Endangered
Weight: Less than .5 grams
Length: Wingspan of 7-10 cm
Lifespan: Monarchs live for 2-6 weeks, with the exception of the late summer generation, which lives 6-7 months overwintering in Mexico.
Threats
During the past two decades, WWF has seen a dramatic and sustained decrease of the area occupied by monarchs on their wintering grounds, from almost 18.2 hectares of forest at their peak in 1996 to just 2.5 hectares in 2017.

Monarchs are threatened by deforestation of wintering forests in Mexico, disruptions to their migration caused by climate change, and the loss of native plants (particularly milkweed) along their migratory corridors.

Researchers say that the historic hurricane season and warmer than usual weather, which delayed migration in some parts of Canada and the United States, may have also contributed to reduced numbers in 2017.

In Canada, the monarch was recommended for listing as Endangered under the Species at Risk Act in December 2016.
Did you know?
Each adult butterfly lives for two to six weeks, except for the migrating generation, which lives up to seven months through the fall and winter.

Pollinators, including the monarch, are responsible for almost all of the fruits and vegetables we eat. Plus, they're the reason those beautiful flowers keep growing in your garden.

The monarch butterfly's scientific name is Danaus plexippus, which literally means "sleepy transformation," evoking the species' ability to hibernate and metamorphize.

Adult butterflies develop sex organs within three days of emerging from their chrysalis and begin to reproduce five days later.